We guarantee crystal clear and comfortable vision using modern diagnostic equipment. We have invested in the newest technology providing our patients with "State of the Art" EyeCare Diagnostic Computerized Equipment.
In April 2010, our office implemented the Marco High Definition Phoropter rather than the 1928 manual phoropter used at 99% of all other eye doctor offices. Our Phoropter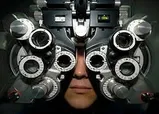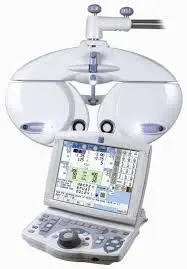 1928 Phoropter
For most of the last century, testing vision meant giving the patient the choice between two lenses, "which is better one or two". We can now show you 2 images at the same time to help fine tune your astigmatism to within an unprecedented1 degree accuracy.
At Dr. Kenneth O'Daniel & Assoc., PC, we have moved into the new century to measure your vision more precisely and efficiently. First we use an auto refractor to measure your prescription. The doctor then measures your current glasses using an computerized lensmeter. This data is automatically downloaded into the MARCO TRS Phoropter, which allows us to test your vision.
The Computerized Marco TRS 5100 Refraction System allowing us to control the entire process from a keypad. Prescription lens choices move quickly, more accurately and efficiently providing less discomfort to you.
The TRS 5100 Refractor is extremely through and it decreases the time you need to spend making choices. This increases accuracy because you are deciding which prescription would be best while looking at both choices, at the same instant, through the same tear film, during the same blink.
This may not sound like much but at the end of the testing all I have to do is push a button to show you the difference between your old glasses and your new prescription. Our patients love the accuracy, speed, and the precision that our technology provides. Seeing is believing. It's quick and easy…